ACCREDITATION
Independent Living Roadshow
We are very proud to announce, we are one of the founding partners of a brand new initiative launched in North Yorkshire, committed to support in the community for later years.

Independent Living Partners include: North Yorkshire Police, Fire and Rescue and County Council, Alzheimer's Society, Dementia Forward, Home Instead, Society of Later Life Advisors and Cardale Asset Management.
The aim of the scheme is provide free advice and support to anyone in their later years. Throughout the year, we will be hosting a series of roadshows around the County.
The Independent Living Roadshow is a voluntary service aimed at supporting the elderly in our community.
Furniture Ombudsman
As a demonstration of our commitment and dedication to our customers, at Rise Furniture and Mobility we are Full members of the Furniture Ombudsman https://www.thefurnitureombudsman.org/rise-furniture-and-mobility/. We have pledged to abide by their code of conduct, which bestows additional rights for consumers enabling you to buy from us with confidence.
National Bed Federation
We make sure that all our beds and mattresses manufacturers are made in Britain, by approved members of the National Bed Federation https://www.bedfed.org.uk/. Only then, can you can rest assured that your new bed or mattress meets the exacting British standards; stringent regulations for flammability, health and hygiene and trade descriptions.
Which? Trusted Trader
For all our stairlift installations, bathroom adaptations and wet room conversions, we insist all our preferred suppliers are holders of Which? Trusted Trader accreditation. Our tradesmen must undergo and pass a stringent vetting process to attain Which? Trusted Trader status.
This ensures that only trusted, competent and skilled tradesmen carry out any work in your home, on our behalf, wherever you live. Which? Trusted Trader is an independent registered body, so your piece of mind is guaranteed.
Federation of Small Businesses
We are also Full members of the Federation of Small Businesses http://www.fsb.org.uk/. We feel it is important for us, as a business to keep up to date with legislation. We are proud to a member of a larger, national, non-profit organisation. FSB's strict code of conduct is very much aligned with our own core values; to promote selflessness, integrity, accountability,
AWARDS
Winner – Best Customer Service
We did it again!! We are absolutely thrilled about picking up another prestigious award for our customer service.
Finalists in three categories: Best Small Business, Best Website and Best Customer Service Rise Furniture and Mobility were crowned winners for our outstanding Customer Service. Beating off fierce competition from five other finalists.
The 2019 Harrogate Advertiser Excellence in Business Awards took place at a glittering black tie event hosted by BBC presenter and newly appointed Deputy Lord Lieutenant Harry Gration MBE, at Pavillion's The Great Yorkshire Showground on 4th April.
Winner – Retail Business of the Year
We did it!! We are very proud to announce that Rise Furniture and Mobility is the 2018 Retail Business of the Year.
After reaching the finals, placed Rise Furniture and Mobility amongst the top four new businesses in the UK, since launching both in store, mail order and online. Going head to head with some of the UK's most promising start-up businesses, Rise Furniture and Mobility was announced Retail Business of the Year at this years National Best New Business Awards.
The judges were looking for clear and defined route to market, demonstrating innovation, forward thinking and exceptional customer service.
The gala awards final was held at London's Millennium Gloucester Hotel on Friday 29th June.
Winner – Most Outstanding Mobility Retailer North Yorkshire
We've done it again!! We are very proud to announce that Rise Furniture and Mobility is the 2018 Most Outstanding Mobility Retailer for North Yorkshire
We are delighted to announce that we are the proud recipients SME News' 2018 Business Elite award and have been recognised as:
2018's Most Outstanding Mobility Retailer – North Yorkshire.
The Business Elite program, celebrates those enterprises that consistently provide the best customer service and products for their customers, allowing them to stand out within their industry.
Formulated on the back of months of qualitative and quantitative research undertaken by the publications own independent research team, ensures that all recipients are awarded on strictly a merit basis, and provides SME News with the chance to reward and promote talent.
It is immensely satisfying to know that our hard work and customer service is being recognised.
Winner – National Service Excellence Award
After winning Retail Business of the year in 2018 Rise Furniture and Mobility has been recognised once again, this time at the 2019 National Best New business Awards.
After being announced finalists in three categories, we are delighted to have been crowned winners of Service Excellence category, fending off fierce competition from a whole gamut of new businesses.
"It's great to be recognised for any customer service award, as good customer relations are an integral part of any new business" said MD Carl Drake. The awards presentation took place 0n 28th March 2019 at Studio B in Kensington, West London.
Highly Commended – Best Service Award British Healthcare Trades Awards 2018
We are very proud to have received a Highly Commended for Best Service at the British Healthcare Trade Association's Awards (BHTA).The prestigious awards ceremony was open to all professionals (BHTA members and non members) operating within the healthcare sector. Nominations were received from suppliers and healthcare professionals. Awards were announced at The British Healthcare Awards dinner hosted by BHTA on 29th November 2018.
Digital Enterprise Top 100 Company
We're very proud to announce that we've been included in the Digital Enterprise Top 100 companies.
The Digital Enterprise Top 100 is a major initiative that identifies the Region's most innovative, and transformational digital businesses; companies blazing a trail in the digital world, not just across the Yorkshire region, but the UK and internationally.
We're looking forward to attending a celebratory event hosted by Digital Enterprise and sponsors Exa Networks and Shulmans LLP in Leeds on 27th June 2019.
Leading Independent Retailer – The 2019 AMP Power List
Access and Mobility Professional Magazine, the leading Mobility and healthcare publication, has published a definitive list of the top 100 most innovative, dedicated and brightest individuals in the industry.
Leading the Independent retailers category, undoubtedly a tough sector in todays climate, Rise Furniture and Mobility's Managing Director Carl Drake has been recognised as one of the leading independent Mobility Retailers in the country.
You can read more about it here…https://lnkd.in/dk93YVx
Area Finalists – Federation of Small Businesses Awards
We are very proud to announce that Rise Furniture and Mobility (as members of the Federation of Small Businesses since starting our business), have been named as Area Finalists for Yorkshire and Humberside in the two categories at this years FSB Awards.
Start up Business of the Year
The area final took place on March 1st 2019 at the Principal Station Road York during a glittering awards luncheon.
Finalists – Retailer of the Year British Healthcare Trades Awards
We just missed out on achieving the double! Having already won National Retail Business of the Year earlier in the year, we were super excited about being nominated and selected finalists for Healthcare Retailer of the Year at the BHTA awards. With such strong competition from much larger and more established healthcare retailers throughout the UK, voted for by the healthcare industry we were honoured to have been considered and extremely proud to have been finalists.
It is immensely satisfying to know that our hard work and customer service is being recognised.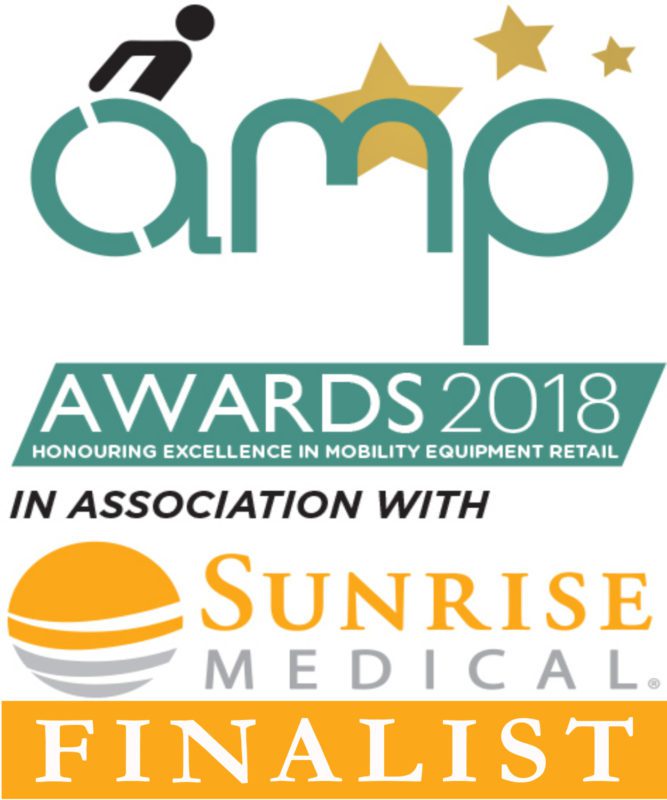 Runner Up – Best Online Initiative
We are delighted to announce that our website has once again been recognised for its online presence and ease of use, by one of the mobility industry's leading publications AMP (Access and Mobility Professional).
Out website was runner up for the 'Best Online Initiative Award' at the AMP Awards 2018, which was held at NEC Birmingham in October when the winners were announced.
The awards celebrate the achievements of retailers and dealers in the UK mobility industry. This was the first time that a dedicated awards event has been held to mark achievements in the mobility retail sector, recognising the importance of impeccable customer service, innovative thinking and business success.
The Best Online Initiative award recognises retailers that have used the internet in forward-thinking and impressive ways to capitalise on the rapidly expanding world of e-commerce to improve the customer experience and grow their business.
Runner Up – Best Website
We are delighted to announce that Rise Furniture and Mobility finished runners up in the prestigious Harrogate Advertiser Business Awards 2018 under the 'Best Website' category.
Judges were looking for a website that encompasses excellence in content- good navigation offering easy access to breadth and depth of content, good quality visual design relevant to the audience and the message it is supporting, good functionality and good interactivity.
The awards dinner was held at Harrogate's Royal Hall on Thursday 19th April and was co-hosted by Jean MacQuarrie, the editor of the Harrogate Advertiser and Group weeklies Editor for the Johnston Press Yorkshire, along with the Chief Executive of Welcome to Yorkshire.